Your Future, Your Rules
Project OTY is a cutting edge personal leadership experience to cultivate your future on your terms, using the methodologies of great leaders to get you on the right path to achieving your vision of success.
Why should someone consider participating in the Project OTY experience?
"Why not! So many reasons to – get ownership of your life, better understand yourself (behaviors, fears, etc.), build positive and productive habits, build connections around you, heighten mindfulness and gratitude, and become intentional about your life and set goals to make your dreams come true."
Your dreams are closer in reach than you ever thought possible.
Project OTY helps amplify you to create a plan of action that is unique to you. You will be inspired to build your future with confidence.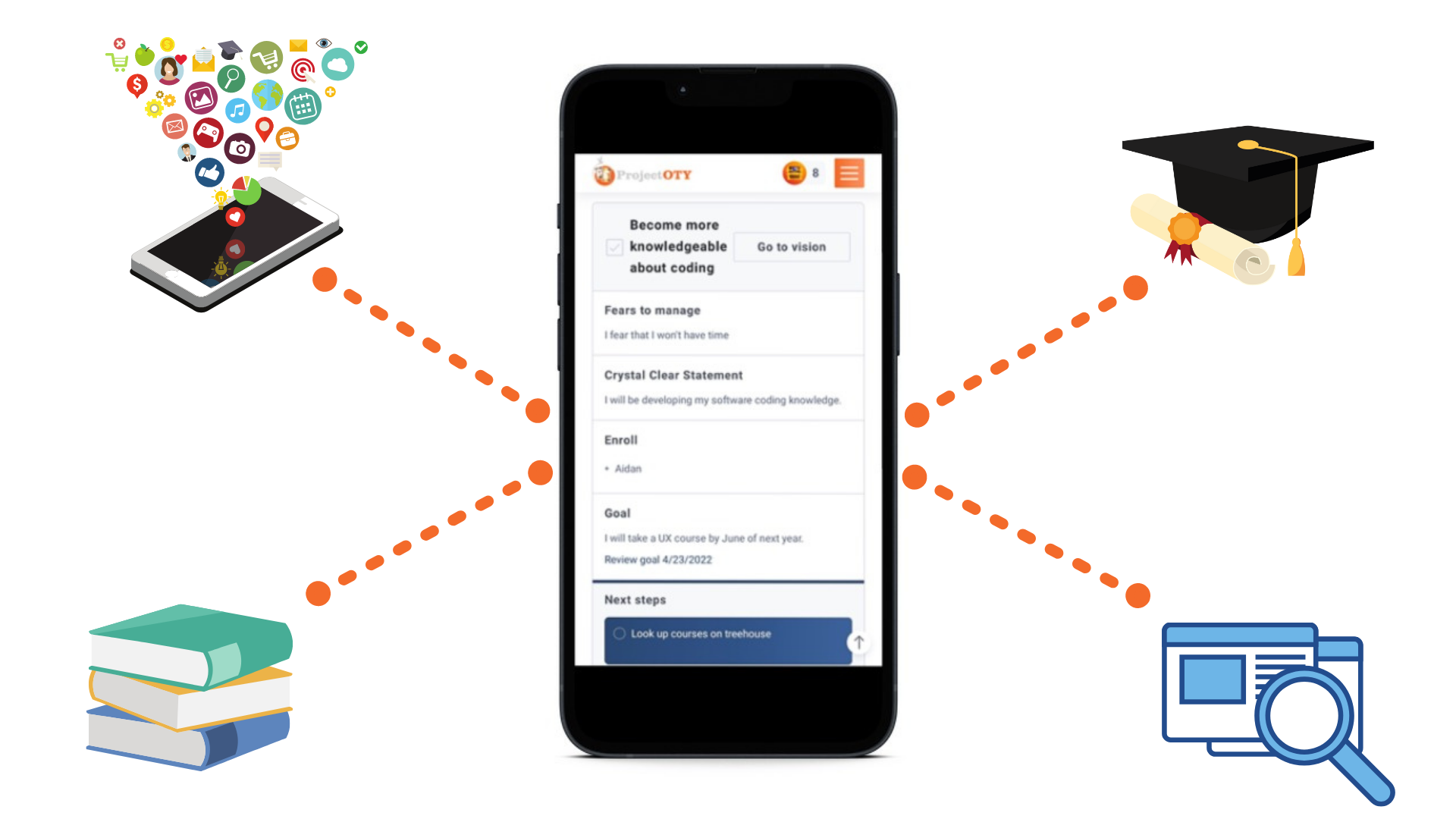 An interactive leadership journey centered around you and your future.
Dive into an interactive, conversational app experience that focuses on you. Develop personal leadership skills that align with your Unique Strengths. Define what success means to you. Get detailed and specific regarding your goals and next steps on the path to creating your world.
The foundation for a peaceful and purposeful life.
We help you find and maintain the elusive work-life balance. By helping you figure out where to focus your energy and time, we guide you in removing unnecessary stress and fear in achieving your dreams. Turn "someday" into "done" without the overwhelm, drama and crisis.
"This experience made me dig deeper than I originally thought I could.
 

I learned how much I am capable of in life and how I can achieve my dreams in ways I never imagined."
"This process takes away some of the anxiety and helps you to organize what you can do today on the path to reaching your larger goals."
How much time should I expect to spend on the program? What's the duration?
The Project OTY app is uniquely designed in two phases. The first phase involves 16 interactive modules for you to move through as you intuitively build your future plan, or "Roadmap". The first phase is flexible to your schedule and can be completed in spending 10-15 minutes a day, 60-90 minutes per week, or 6-8 hours in a weekend. We see individuals complete the Project OTY module material anywhere in the range of 2 days to 3 weeks. We encourage you to spend the time you need. After completing the modules, you will enter the second phase of the experience, which allows you to edit and execute on your completed Roadmap, view your personalized Resources, and share your Roadmap for help and feedback from those you trust.
What should I expect?
Project OTY is a self-directed framework that works with your schedule. We make increasing confidence, developing personal leadership and crafting a future plan – a walk in the park. Try it for yourself and be amazed at the transformation that happens in your life.
How do you protect data?
We abide by strict cybersecurity standards to encrypt and de-identify user data. We do not sell user data to third parties. For more information on how we use and retain user data, check out our long, boring Privacy Policy.
How much does this cost?
The investment to go through the Project OTY experience is $199.  After your initial year of subscription, continued access to the Build YOUR Roadmap application is $49/year.  The Project OTY experience is designed for individuals committed to living their most fulfilled life. 
Bottom Line - What's in it for me?
Common side effects of going through the Project OTY process may include having a more motivated and aligned future plan, increases in compensation, future promotions and job opportunities, laser-like focus, increased social and emotional intelligence, and a peacefully productive life that's full of purpose and confidence.
I'm Ready
Let's Get Started
I'm Still Thinking
About This