Empower your people, power your growth.
Good companies offer perks. Great companies help their teams lead better in the office & in life.
Project OTY helps you develop your people, so you can better work together to accelerate company growth.
Today: Flying Blind
Tomorrow: Leading with Confidence
Pulse surveying and OKRs provide only part of the picture when it comes to learning how to engage your people. Project OTY is a one-of-a-kind, goal-oriented approach to leading and engaging entire teams. Our 16-step framework helps organizations align their company visions, leadership objectives, and employee goals to create empowering places to work.
We believe the future of work involves people at all levels of an organization collaborating to help one another fulfill their dreams – at work and in life.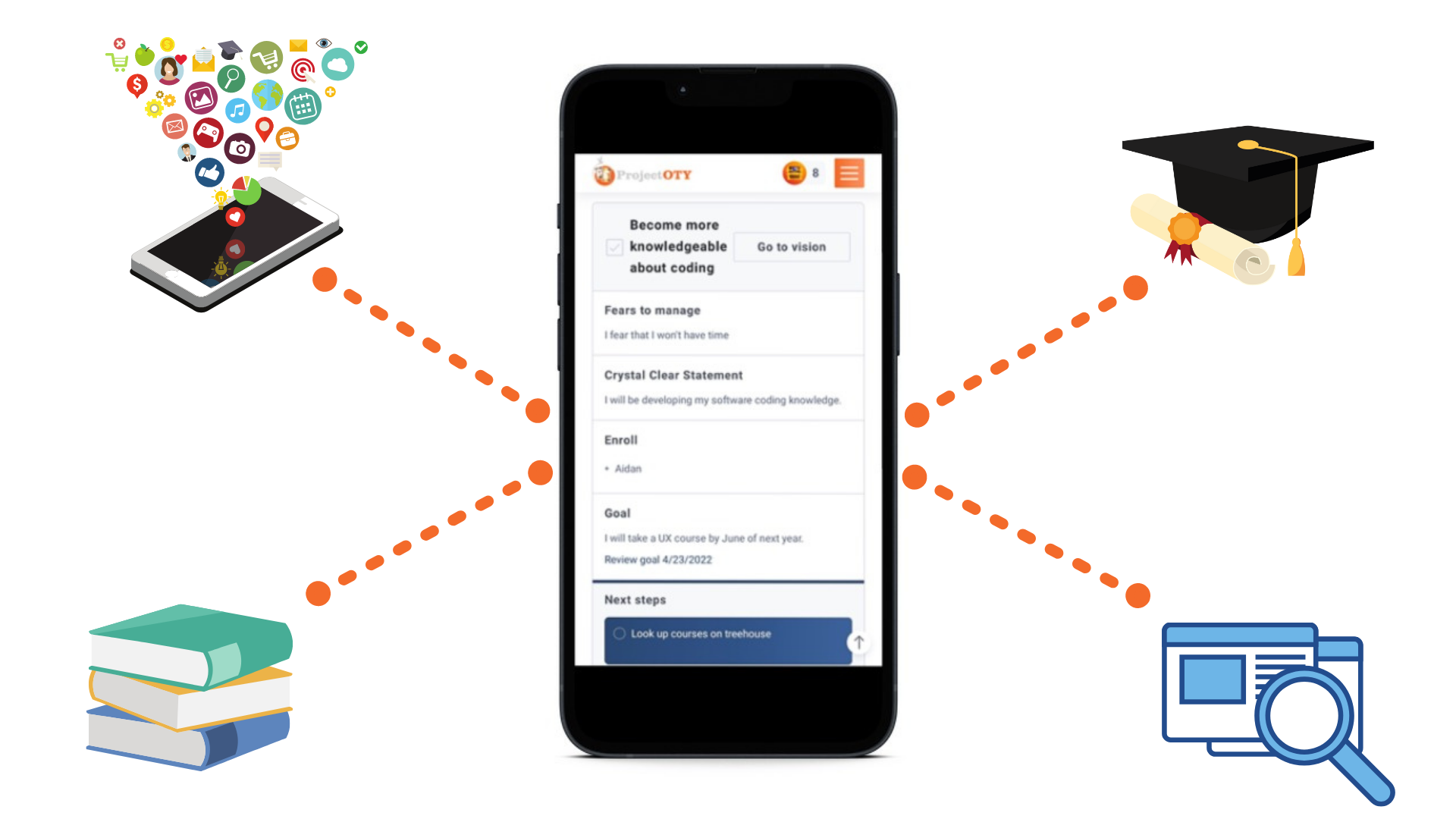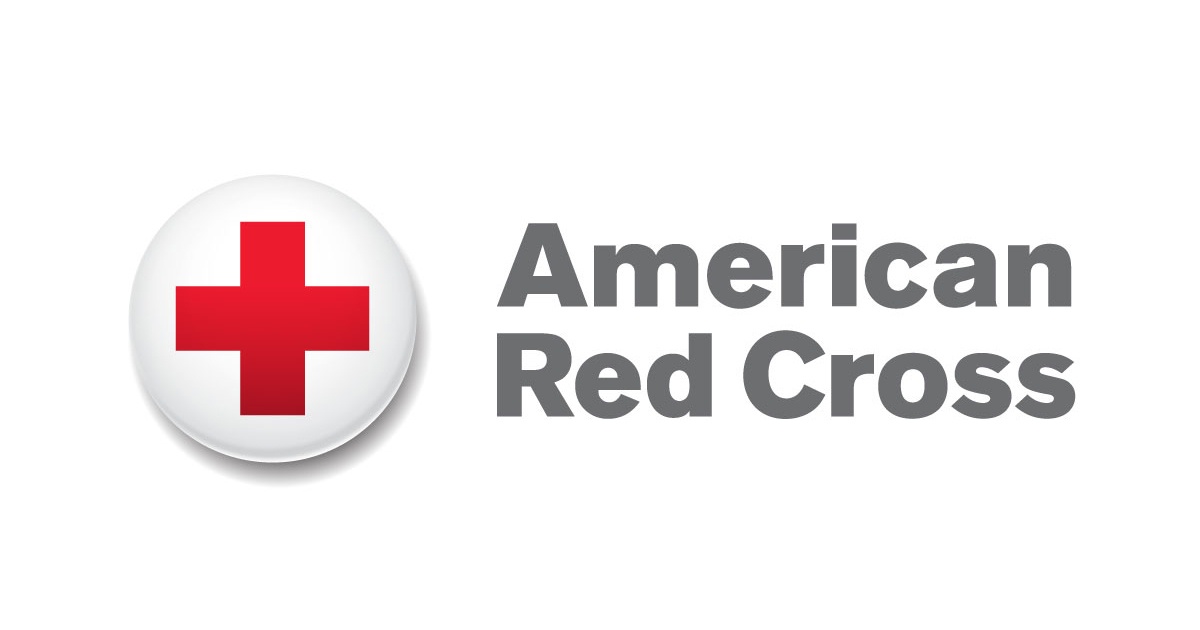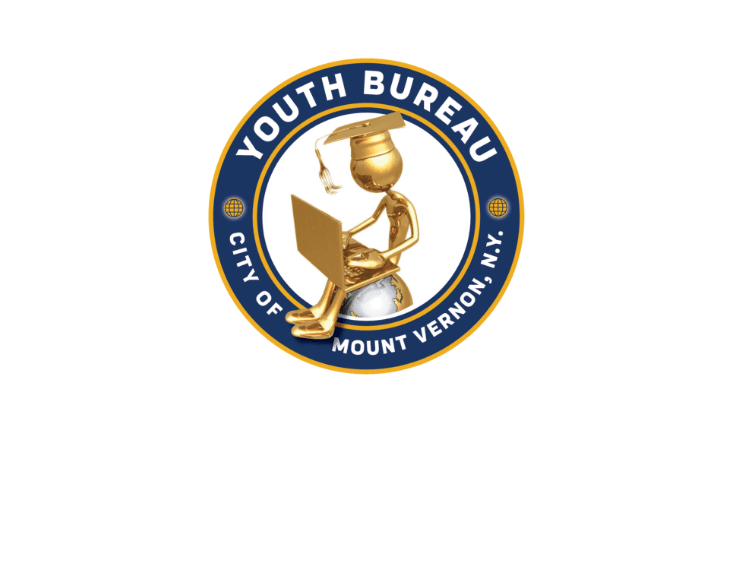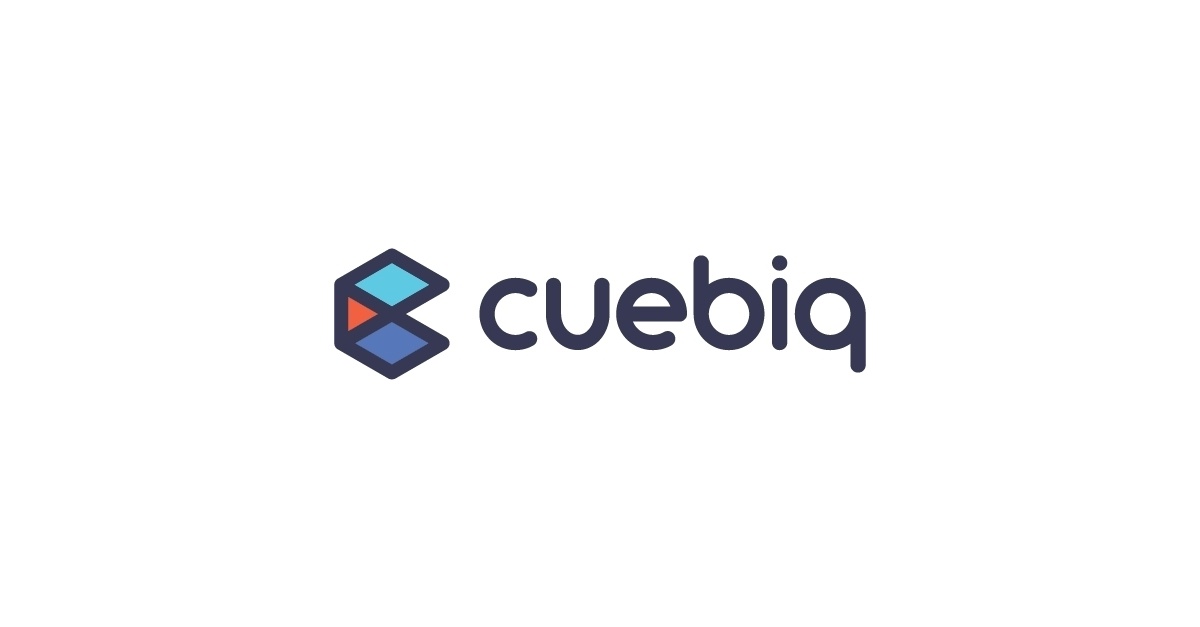 Two Powerful Solutions for Businesses
Lead with Confidence:
Our Leadership Effectiveness Solution
Transform Your Leaders.
Transform Your Culture.
Transform Lives.
Before your people can lead others, they need to learn how to lead themselves. From your C-suite to your first-time managers, our Project OTY Lead with Confidence program develops essential soft skills and equips leaders with powerful mindset techniques. The result? Your managers are more empowered in their daily life and work, while effectively engaging employees to problem solve and achieve more in their roles.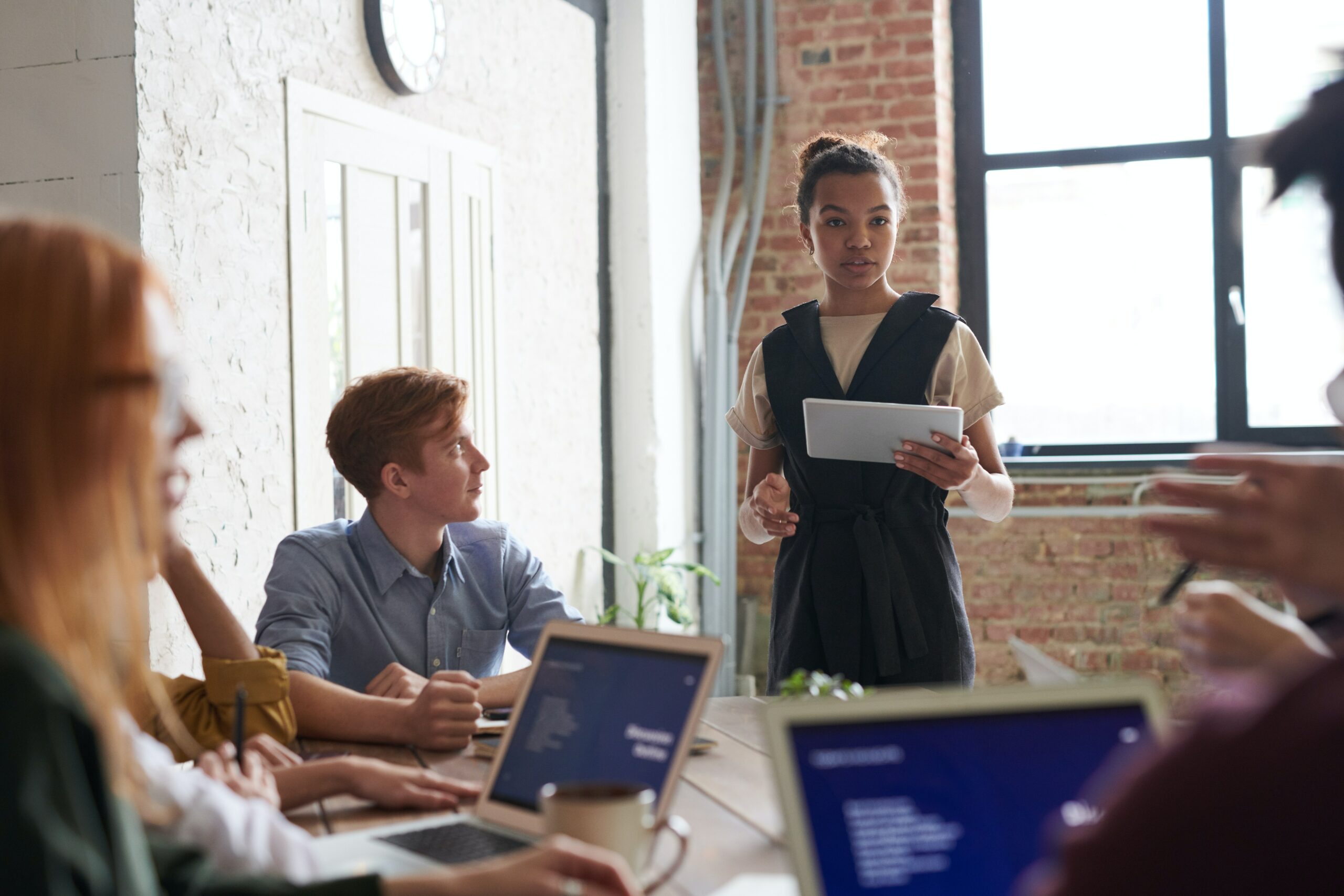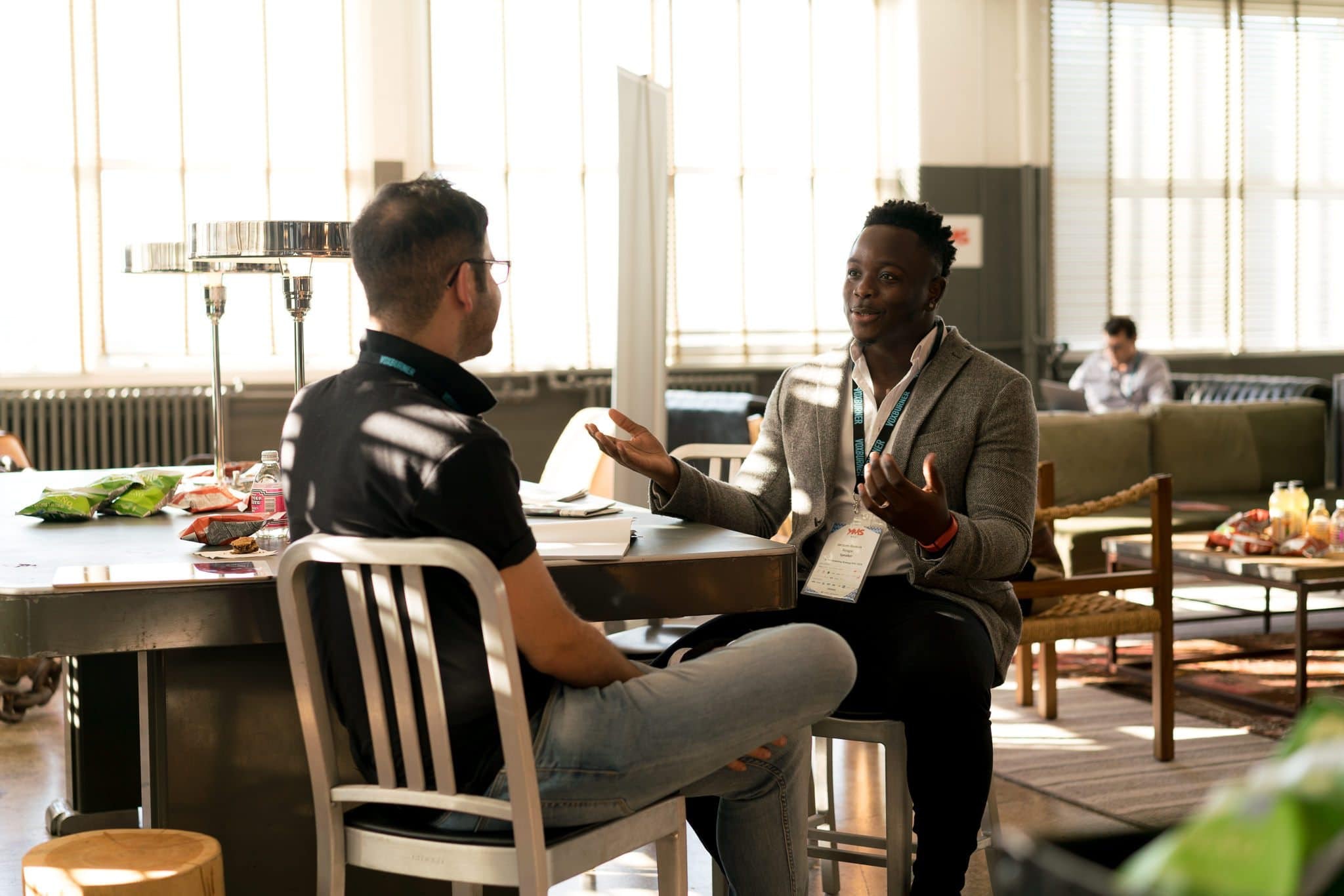 Effectively Leverage People's Potential Through Goal-Oriented Thinking
Your employees want their work to be purposeful. To be better engaged, they also need to feel supported in their goals and connected to their life's purpose. Lead with Confidence guides your executives, managers, and emerging leaders to have eye-opening, goal-focused conversations and develop action plans that align employee dreams with the company vision.
"How Do I Lead and Engage My Team Effectively in Today's World?"
Gallup's 2022 report found that, worldwide, only 21% of today's workforce is engaged. If you're like most company leaders right now, you're looking for ways to increase engagement and decrease unwanted turnover. (Fun fact: There's a new way forward – one where you don't lose more time, money, and great people.)
This 8-page report shares how business owners can powerfully optimize their executives, managers, and emerging leaders' leadership effectiveness to decrease disengagement and make your company a "Best Company to Work For".
Download Our White Paper Now!
"*" indicates required fields
What You Get From This Report
8 simple methods your leadership and management team can implement to address the main causes of disengagement in teams

Learn why employee engagement solutions and OKRs are not the answer

See how one style of thinking can completely uplevel your company's leadership approach and make employees want to stay
What Business Leaders Are Saying About
"I use the Project OTY process and steps every day leading one of the fastest-growing companies in the U.S."
"This program will help you start the process toward significant achievement by helping you identify and take action on your big vision."
"I loved the process and information shared. It was great that we started big and got down to granular tasks that get me started towards my vision immediately."
Build YOUR Roadmap™:
Our Employee Empowerment Solution
Your employees are constantly navigating challenges outside of work in today's fast-paced and digitally connected world. Offered as a follow-up to the foundational Lead with Confidence program, our Build Your Roadmap™ program helps employees build resilience and manage life's challenges, so they can come to work feeling energized and engaged to perform at their best.
Personalized Action Plans
Each employee clearly identifies their strengths, crafts their future visions, and creates a confident 1-5 year plan that allows them to confidently reach their personal and professional goals faster.
Build Confidence & Adaptability
Your employees learn how to successfully navigate challenges and setbacks while building high-performing habits that help them show up to achieve their goals at work and in their personal lives.
Create a Supportive Space
Now more than ever, your people need to know they are valued and cared for. Project OTY enables your team to build more trusting relationships and create a support system for all employees.
+Get Access to Two Free Seats in our Lead with Confidence Program
"This completely reframed how I think about my future and what's possible."
"It gave me the opportunity to do a lot of insightful work on myself and ask for feedback from others."
"[Project OTY] improves the way you relate to others and how to work toward self-improvement."
"[Project OTY] made me think about the big picture in ways that I don't often take time to do."
"The Project OTY Build YOUR Roadmap process is "Ground Zero" for any corporate leadership program."
Align Your Team in Less Time
1.
Implement Anywhere
Whether your team is working remotely, in person, or in a hybrid approach, we're here to support your team – wherever they work.
2.
Easy Onboarding
Getting started is a snap. We'll send you a single link that each of your employees can use to easily and securely create their Project OTY accounts.
3.
A Personalized Process
Our process aligns with your team's schedule and needs. We can help you implement our solutions through a seminar-style workshop, offline workbooks, or via our online, browser-based programs.
+Get Access to Two Free Seats in our Lead with Confidence Program
Where Does Project OTY Fit On My Team?
Our Project OTY solutions work best in the areas where you prompt your team to think about their objectives, goals, role, and the future of your team.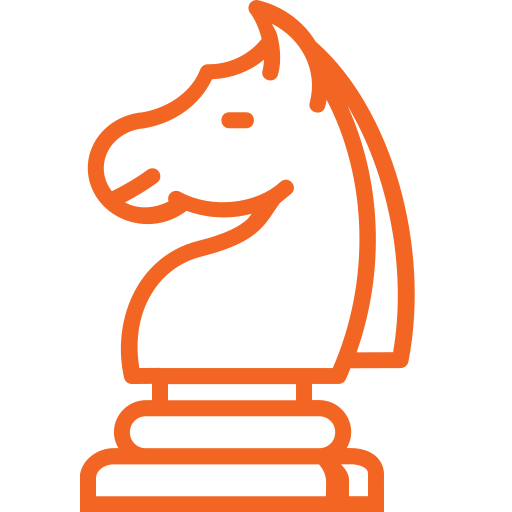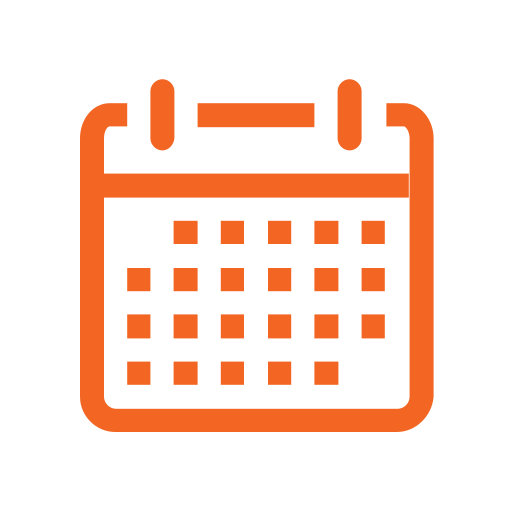 Quarterly & Annual Work Planning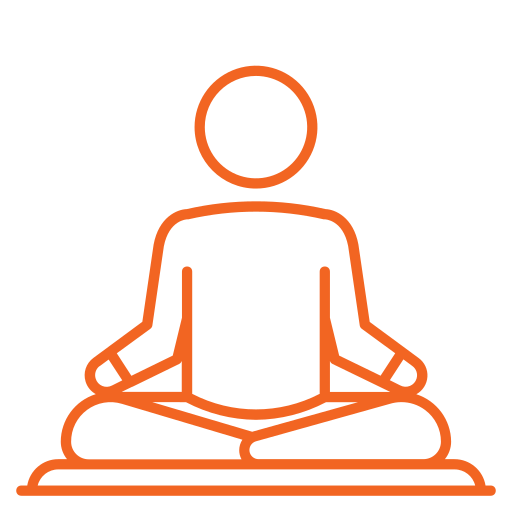 Workplace Wellness Meetings/Committees
A Plug-and-Play Process in the Format You Need
You bring your unique work culture and talent. We're here to complement your hard work and existing programs and resources. We are uniquely flexible in creating an experience that works best for all members of your organization.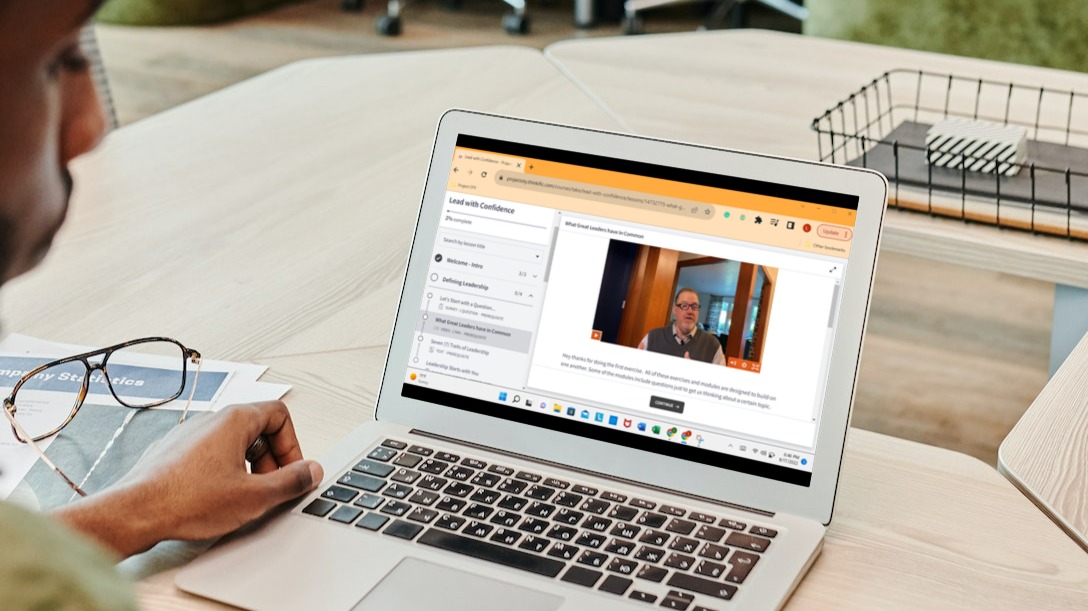 Lead with Confidence
Ideal for executives, managers, and emerging leaders in your organization. Through 16 engaging lessons and exercises, team leaders will gain personal leadership skills, critical motivational tools, a fresh perspective, and enhance their soft skills, all while building a personalized Roadmap. It's holistic personal leadership training, unlike any training program, resulting in team leaders that are more equipped to support, engage, and inspire employees across your entire organization.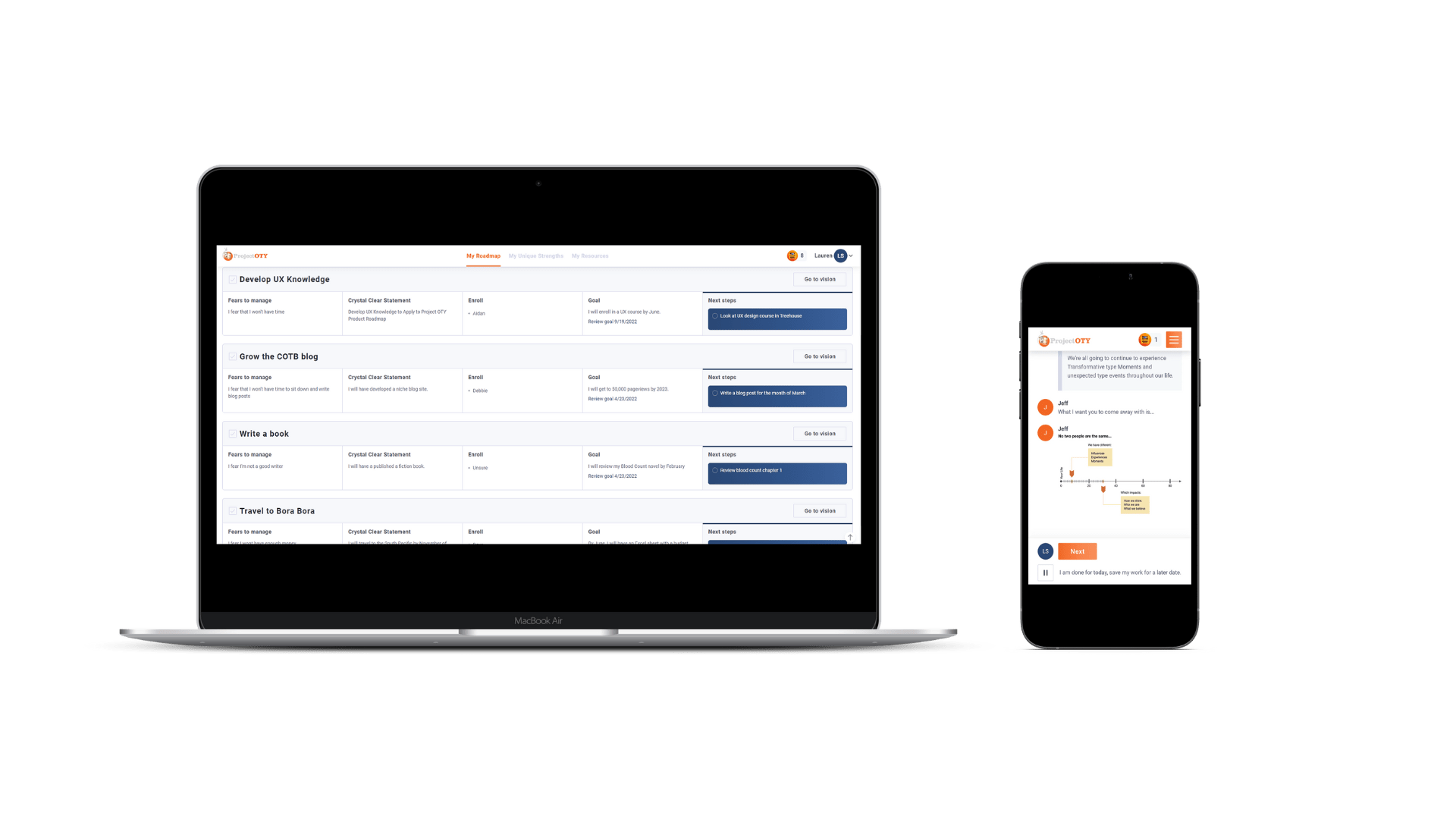 Build YOUR Roadmap™
The ideal option for every employee on your team. Individuals enter a 16-step program that helps them strengthen leadership skills and accountable behaviors and leads them to create a personalized "Roadmap" plan that can be shared to provide visibility and insight into goals (personally and professionally). We recommend teams consider this option after first enrolling their team leaders and managers in our Lead with Confidence program.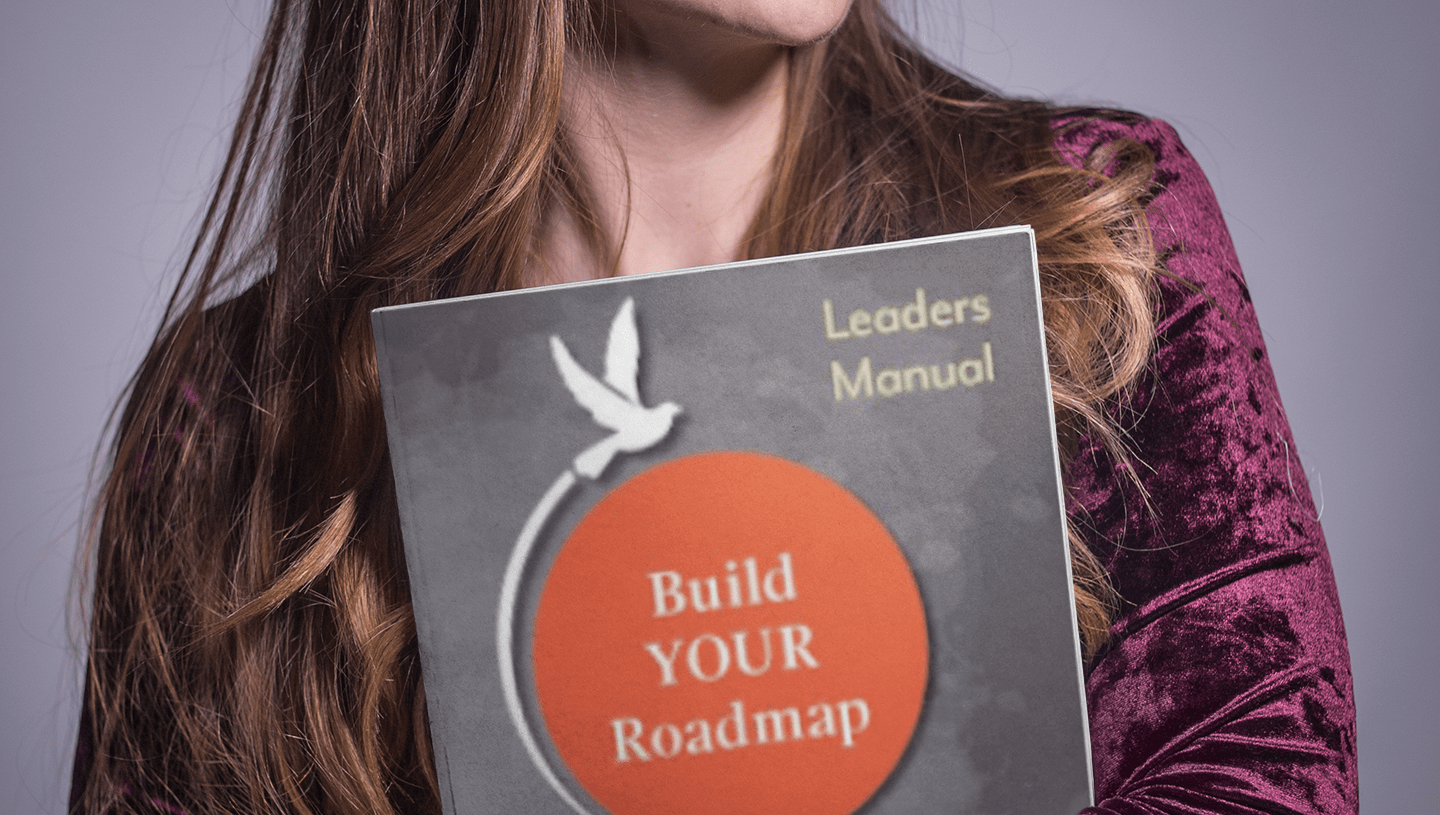 Offline
Best for small groups and in-person team-building retreats and seminars. We offer the ability to deliver our signature Build YOUR Roadmap in a physical workbook format. This includes a Build YOUR Roadmap booklet (English & Spanish available) for each employee, along with our "Leaders Manual" companion guide for your managers and trainers.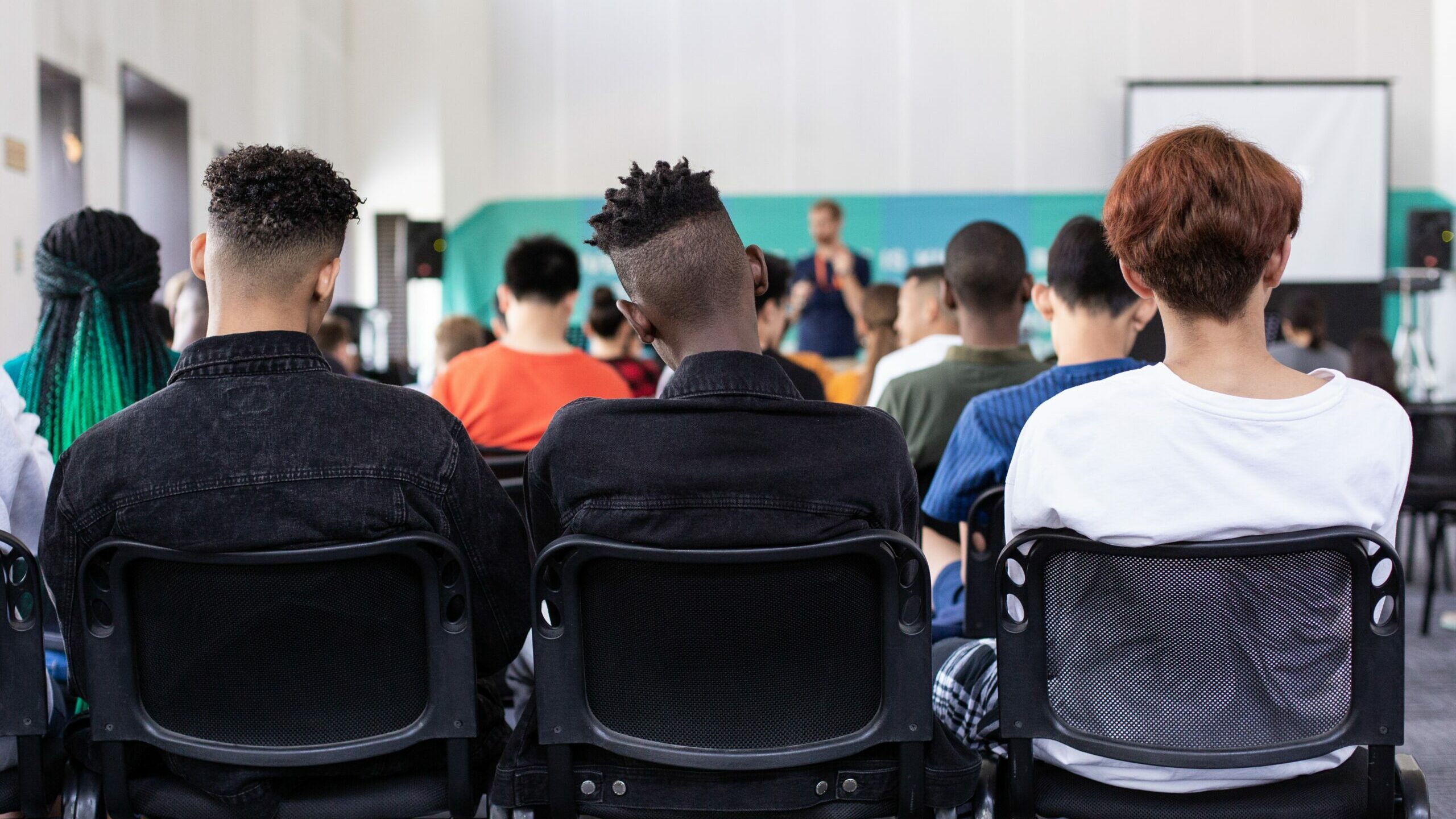 Workshop
Ideal for organizations and teams of any size that want to accelerate team leadership development in a 1-2 day workshop experience. We offer virtual and in-person workshop options that are customized to your organization's needs and goals.
How much time does a Learner spend on the Project OTY platform? What's the duration?
The Project OTY platform is uniquely designed in two phases. The first phase involves 16 interactive modules for an individual to intuitively build their future plan, or "Roadmap". Individuals can anticipate moving through all 16 modules in a 4-6 week timeframe. When you talk with our team, we'll work with you to determine a schedule and implementation strategy that works best for your organization or team.
After completing the modules, individuals enter the second phase of the experience, which allows them to edit and execute their completed Roadmap, view their Resources, and share their Roadmap for help and support.
What are my expectations as a Team Leader, HR Professional, Executive, or Business Owner in delivering this framework?
Our Lead with Confidence and Build YOUR Roadmap programs are self-directed frameworks designed to complement existing training and initiatives of a team and organization. They require little guidance and no external delivery of information or training on the part of a business leader. We make increasing confidence, developing personal leadership, and creating an organizational culture of accountability – a walk in the park. Try it for yourself and be amazed at your team's transformation.
Our team already has leadership training and goal-setting programs/OKRs in place. Why should we consider Project OTY?
Our programs are designed to complement existing programs and training. While there are many programs that tell you "what" to do or "why" you should do something, we're focused on the "how" that leads to personal leadership and breakthroughs. We also go far beyond workplace goals and objectives. We encourage your team leaders and employees to set visions and goals from a holistic perspective.
(This is the crucial turning point in creating engaged teams.)
How do you protect Learner data?
We abide by strict cybersecurity standards to encrypt and de-identify user data. We do not sell user data to third parties. For more information on how we use and retain user data, check out our Privacy Policy.
Is Project OTY similar to other assessment tools to figure out personal strengths?
There are assessment tools on the market that are fully dedicated to helping individuals identify and categorize their strengths. We go beyond strength assessment to help your employees and team leaders holistically look at their goals and objectives, their lives, and figure out their future. We take a different approach to determining strengths that don't involve answering a single assessment question. Also, unlike assessment platforms, we don't try to fit a person's strengths into a "box" or fixed identity. Instead, we help them personally identify and unleash their Unique Strengths to create their future.
Want to See Project OTY in Action?
Schedule a brief chat (5-15 minutes of your time is all that's needed). We also offer two free seats for select business leaders on your team to experience our foundational Lead with Confidence program.